SATURDAY, OCTOBER 22 – SUNDAY, OCTOBER 23, 2016
THE FRIENDS OF CORBIN SHOOT – 2016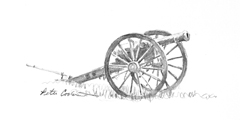 to benefit
Fort Ticonderoga & Project Healing Waters Fly Fishing
Hudson Farm Club, 270 Stanhope Sparta Road, Andover, NJ 
All inclusive event, limited to 24 participants
The Pocket Between the Falls by Peter Corbin, oil on canvas, 20 x 30 inches, valued at $18,000.
Participants donating $5,000 will receive a chance to win this original Peter Corbin painting. $3,500 is tax-deductible and a non-shooting guest is welcome to join you at no additional cost.
(Payments can be made online, please see below)
Participant Links:
Welcome to the 2016 Friends of Corbin Benefit Shoot. We are delighted to be supporting America's Fort, Fort Ticonderoga and Project Healing Waters Fly Fishing (PHWFF). Over its brief history, this benefit shoot has raised over $650,000. 
The all-inclusive event is limited to 24 participants.  This year's shoot is a $5,000 donation, and $3,500 is tax-deductible.  A non-shooting guest is welcome to join you at Hudson Farm Club at no additional cost to share in the gourmet dining and conviviality.   Make your reservation early with a 50% deposit to hold your spot. 
The event will kick off at 12:30 pm with an optional light lunch on Saturday, October 22, followed by sporting clays, cocktails at 5:30 pm and gourmet dining with fine wines.  Spend some time on Saturday afternoon with representatives from Fort Ticonderoga and Project Healing Waters Fly Fishing.  
Try your keen eye at the sights of the weapons used by the many armies that vied to hold Ticonderoga in 1777, from reproduction farmer's fowlers to new French muskets.  Fort Ticonderoga will highlight the guns, great and small, that roared during the epic events of 1777.   The Fort will bring an exact reproduction of a light 3-pound bronze cannon from their collection in addition to rare original objects from their world-renowned museum collection of 18th-century weapons. Fort staff will show how math, history, science, & art come together for their visitors in new artillery exhibits and programs.
Learn how to cast a fly rod. Then enjoy a demonstration on how to cast using adaptive equipment that enables injured and disabled veterans to enjoy the sport of fly fishing. Participants and staff of Project Healing Waters Fly Fishing (PHWFF), which is dedicated to the physical and emotional rehabilitation of disabled active military service personnel and disabled veterans through fly fishing and associated activities including education and outings, will provide insight on the healing and restorative nature of their programs. In addition to adaptive equipment, custom built fly rods; hand tied flies, artwork and other items of interest handcrafted by PHWFF participants will be on display.
Friday morning after a buffet breakfast, and the firing of the Hudson Farm cannon, we will board the hay wagon for two drives of pheasant. After shooting, we return to the clubhouse for a pig roast and the drawing for the original painting.  In addition to a chance to win the original painting, The Pocket Between the Falls, each participant will receive a hunter's tote, sporting accessories, one of my framed original pencil drawings, and a selection of fine wine.
Fort Ticonderoga and PHWFF will both benefit from the donations raised.  We suggest your donation be shared by both institutions but respect your right to choose. Tax receipts and all payments including credit card charges will be handled through Fort Ticonderoga and Project Healing Waters Fly Fishing.  For more information on both beneficiaries, please visit their websites hyperlinked above. 
Joe Healy, editor of Covey Rise Magazine, joined us for the 2015 event. Read his article Benefit Blast from the June/July issue, courtesy of Covey Rise Magazine.
We hope you have saved the date and will be joining us at Hudson Farm Club in Andover, New Jersey on October 22 and 23, 2016.  A 50% deposit to hold your spot will be required by September 15th.
For questions and information on the Friends of Corbin Benefit Shoot, please contact Korky Podmaniczky • korky@corbin.btc-hosting.net  • 845-677-5020