Original Artwork:
All original oil paintings and pencil drawings are sold framed.  Paintings come in gold leaf frames and include a museum light.  Original drawings are framed to museum standards in honey burl.
Sample gold leaf frame on the original painting, "The Chain Gang".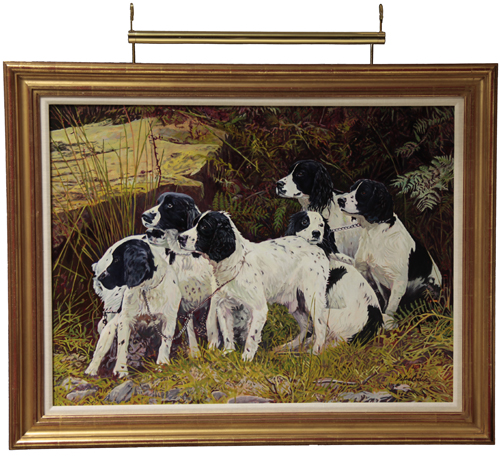 Limited Edition Prints:
Framing  is available for limited edition prints in honey burl for an additional charge of $300.  Limited Edition Prints are framed to museum standards (acid free/archival materials) double matted  and UV in a honey burl frame with UV plexiglass.
Sample honey burl frame on limited print, "Close at Hand"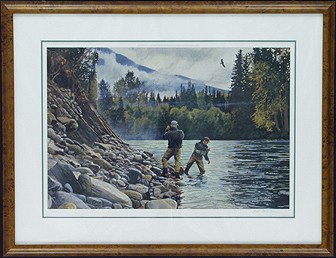 Original Pencil Drawings:
Original pencil drawings (4 x 7 inches) are framed to museum standards in a flat profile honey burl.
Sample original pencil drawing of "Head Study – Woodcock"

Ordering / Shipping & Handling:
To order limited edition prints, original paintings, pencil drawings or gifts, just click your way to the appropriate section of the site, click on "Enlarge Image/Order" and add the items to your online shopping cart. Click on the shopping cart icon on the menubar when you're done shopping and follow the on-screen checkout instructions. It's that easy! We offer guaranteed secure online transactions, and every order is filled by a real person at Peter's gallery so don't be afraid to contact us via email or phone with special order requests.
All shipping rates are based on shipping within the continental United States.  Please call for a quote to addresses outside of the continental United States.  Original paintings are insured and shipped in MasterCrate lined, art boxes and shipped via Federal Express, 3-day air.  All other artwork and gifts are insured and shipped via UPS ground service.